QUIET DAYS
All quiet days include new talks
that are based around the Christian calendar. They are led by the Revd Neil Broadbent, unless otherwise indicated.
Enjoy the peace and quiet of the countryside and relax in our delightful Peace Garden. Places are limited to fifteen. A donation is requested (suggested minimum £12). Please ring 01332 780598 to attend.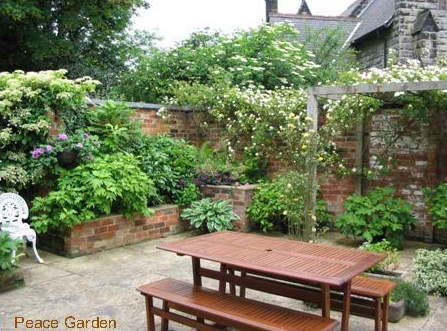 Quiet Days for 2018
Quiet Day Theme
Date
Leader
Hospitality: The Open Heart
Tues Feb 6th
Barbara Broadbent
Lenten Retreat: Passion & the Cross
Mon Mar 12th
Revd Neil Broadbent
Pilgrimage: the Inside Story
Mon April 16th
Very Revd Geoffrey Marshall
"Healing Ancient Wounds"
Tues May 29th
Revd Neil Broadbent
Fullness of Joy: Brother Ramon SFF
Mon June 18th
Revd Richard Reade
St Thérèse and her Little Way
Mon Sept 24th
Revd Stephen Monk
"A child shall lead us"
Tues Oct 23rd
Dr Pauline Lovelock
Advent Retreat: Ready for Christ?
Tues Dec 4th
Revd Neil Broadbent
Timetable for a Quiet Day
Morning
Afternoon
9.45 am
Arrival
1.30 pm
Second Talk (in the Library)
10.00 am
First Talk (In the Library)
Silence
Silence
11.00 am
Coffee
3.30 pm
Resources and Responses
12 noon
Eucharist in Chapel
3.40 pm
Tea
12.30 pm
Bring a packed lunch (drinks provided)
4.00 pm
Depart
Download the
Quiet Days leaflet
. The Trustees ask that all donations be paid on booking. Thanks for cooperating.
Discretionary concessions are available.
The house and grounds are open by appointment for quiet retreatants. Please ring for possibilities.